Healthy Pet Owners Products
Biome Medic is the very first Anti-GMO product that exists, in the world! It is a proprietary blend that is exclusive to Purium; it can't be found anywhere else. This product has been found to remove glysophate, (Round-up) which has saturated our food supply as well as our pet food supply, by 74%, in just six-weeks.
• May support healthy immune function
• Supports healthy digestion
• May help nutrient absorption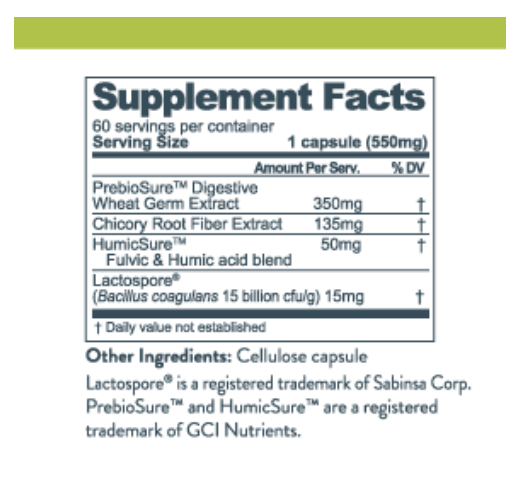 Tammy's notes and personal experience with Biome Medic: to say this is a "game changer", would be a gross understatement! This product has only been on the market for two months and the stories and testimonies are incredible. Personally, I now have MUCH more energy and much less stomach issues. I have suffered with IBS (Irritable Bowl Syndrome) for years and got used to daily/nightly stomach aches. Those are now a thing of my past. My husband is also experiencing less fatigue and less joint inflammation. We have friends who's autistic child is showing fewer autistic markers. Seriously AMAZING!
Dosing: start with label dosage of 1 capsule AM and 1 capsule PM. After one week, up the dose to 2 AM and 2 PM, for about 30 days, then drop back down to recommended maintenance dose is 1 AM and 1 PM.
DOG FRIENDLY
New Customers Enter Gift Code – LOYALTY
For $50 Off Your 1st Order
Cracked-Cell Chlorella is cultivated in a controlled outdoor environment in ponds filled with mineral-rich water. Our easily-digestible binder free tablets are a great addition to any cleansing regimen.
• May support the body`s cleansing of toxins and heavy metals
• Nature's richest whole-food source of chlorophyll
• May aid in the achievement of healthy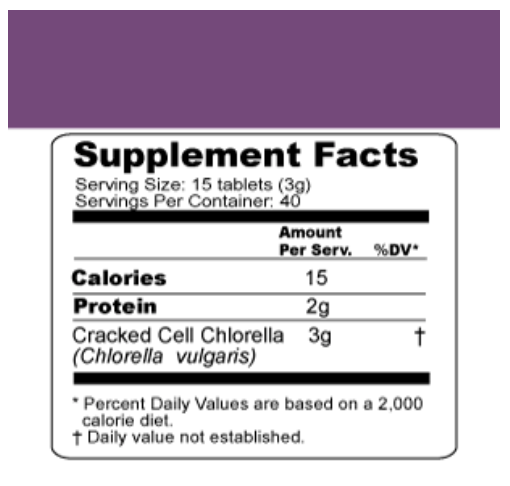 Tammy's notes and personal experience with Cracked Cell Chlorella: our dogs get 3-5 of these tablets every day. It is an incredible source of chlorophyll, which is what most dogs are missing in their diets. Chlorella is recommended as a natural detoxifier from toxic elements such as pesticides, herbicides, and unhealthy pet food. Chemical pesticides include those for fleas, ticks, and heart treatments. It is also a detox agent from vaccines and heavy metals.
New Customers Enter Gift Code – LOYALTY
For $50 Off Your 1st Order
Organic Kamut® blend is a juice extract from the leaves of Kamut, a superior non-GMO, non-crossbred, nutrient-dense heirloom-seed Egyptian wheatgrass. We have combined it with oat and alfalfa leaf juices to give it a sweet taste and increase the mineral and trace mineral content. 
• May support natural cleansing processes
• Great source of chlorophyll and green vegetable nutrients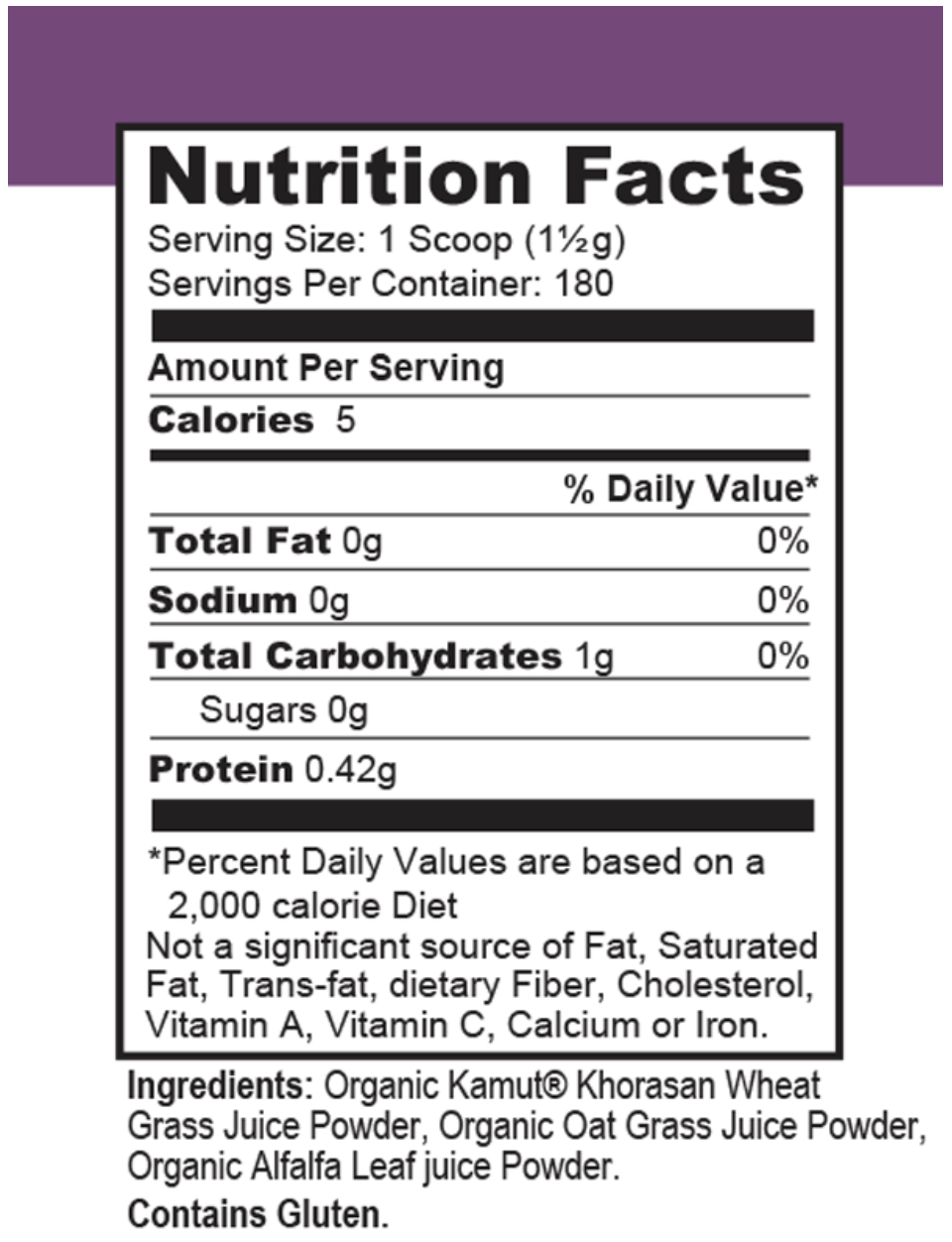 Tammy's notes and personal experience with Organic Kamut: people ask me all the time, "if you could only use one product, what would it be?". My answer…Organic Kamut! This super green, super nutrient, super alkalizing grass is a true miracle! I was diagnosed with Fibromyalgia, a few years ago, and was prescribed a medication that I simply refused to tolerate. After reading about the amazing healing benefits of this, I made it a part of my daily routine, along with a couple of other products, and have never looked back. My Fibromyalgia flare-ups are no longer!
New Customers Enter Gift Code – LOYALTY
For $50 Off Your 1st Order
Power Shake was created so that you can easily consume several energizing, gluten-free superfoods all at once – saving you time and money. A core nutrition shake for Daily Core3 Pack and both 10-Day Plans. Our Apple-Berry flavor provides a sweeter taste without any harmful, unnatural or sugar-based additives. 
• Pure, raw phytonutrients
• Supports healthy cholesterol and blood glucose levels
• May aid digestion
Also available in "Original" which is not as sweet and has a "grassier" taste.
Tammy's notes and personal experience with Power Shake: if you are looking for whole food nutrition, this is it! A hundred years ago, almost all of the foods that were grown and consumed were jammed packed with vitamins and minerals. That simply isn't true, anymore. With all of the GMO's (Genetically Modified Organisms), pesticides, herbicides, and pollutants, our food supply has not only been highjacked, but the soil has ben so deeply damaged, that it is no longer nutrient dense. Our foods don't have the nutrients, but our bodies still require them. If you haven't tried the power of Organic Superfoods, now is the time!
DOG FRIENDLY
New Customers Enter Gift Code – LOYALTY
For $50 Off Your 1st Order
Super Amino 23 is pre-digested 100% vegetarian protein that has been featured in the Physician's Desk Reference and is comprised of specially fermented non-soy legumes. 99% of the amino acids get utilized in 23 minutes or less, creating bigger muscles and more power for your workouts.For fitness goals, add it to a healthy diet along with the Power Shake.
• May aid in normalizing protein synthesis
• May assist with the stabilization or recovery of muscle strength, volume and endurance
Tammy's notes and personal experience with Super Amino23: if you are in the market for a 100%  pure vegan protein, you've just found it. Not only will it help keep your body in an anabolic state (burning fat and building muscle), but it will also help with skin elasticity and skin tightening. It is the most readily available protein source there is and will take your workout, weightless plans, or vegan diet, to the next level.
Recommended dose: 1 tablet per 25 pounds of body weight. Can also be used as a pre-workout and can be taken 23-30 minutes prior to workout.
DOG FRIENDLY
New Customers Enter Gift Code – LOYALTY
For $50 Off Your 1st Order